Fun Activities For Kids In Delaware
Posted by Mitchell David on Thursday, February 3, 2022 at 7:29 PM
By Mitchell David / February 3, 2022
Comment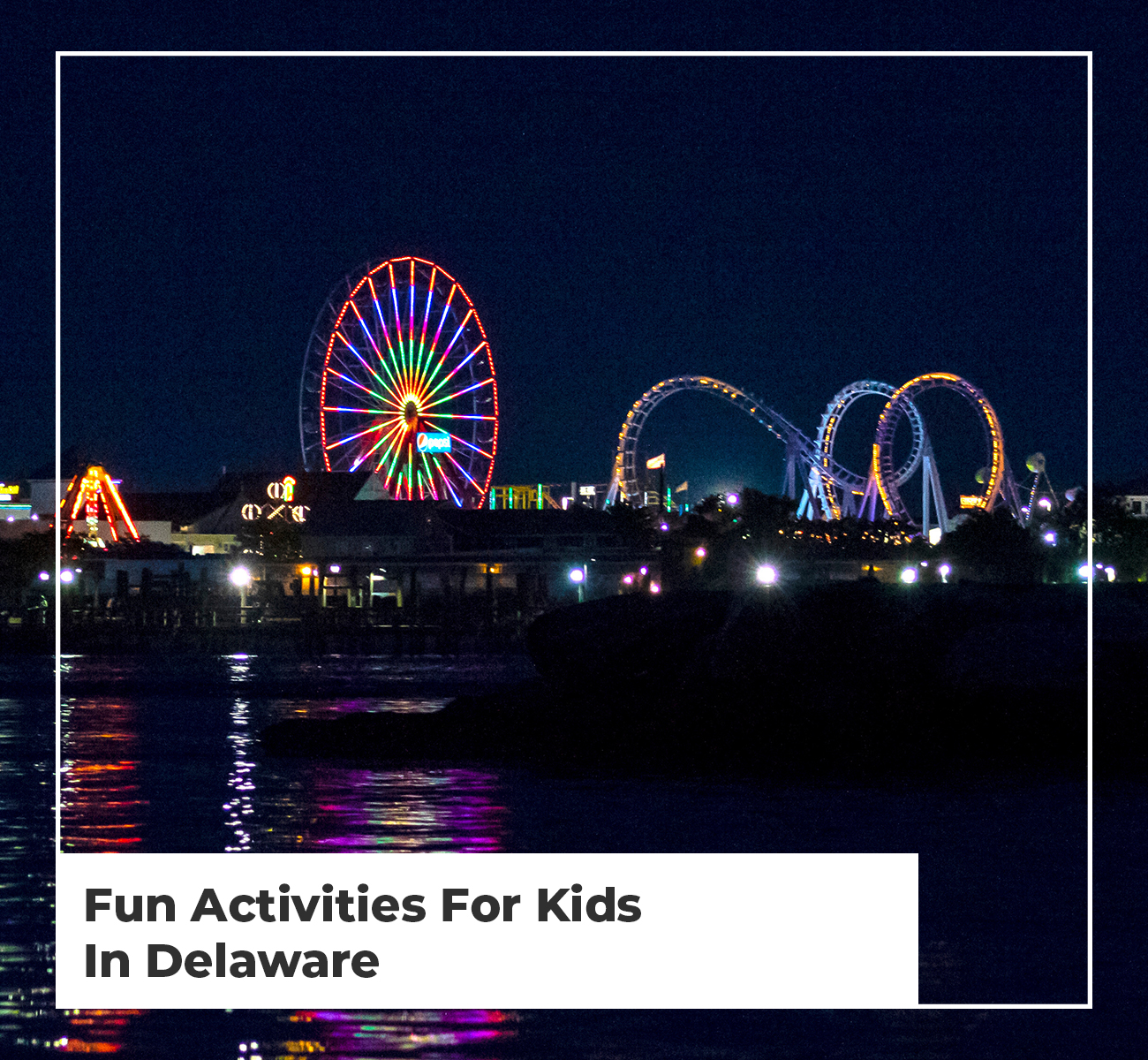 One of the best ways to acclimate children to a new home is to introduce them to their new community. And in Ocean City, there are plenty of activities and entertainment options for children and their families. Check out some of these local favorites.
Jolly Ranger
With five park locations, Jolly Roger Amusement Parks is one of Ocean City's most popular amusement attractions. In 1964, Jolly Roger began as a putting course and driving range. And over the years, the park has expanded to include SpeedWorld, Splash Mountain, Jolly Roger Mini Golf, Jolly Roger at 30th Street and Jolly Roger at the Pier. With a wide range of rides, games, waterslides and more, there's no shortage of family-friendly activities. Trimper's Rides: Located at the Ocean City Inlet, Trimper's Rides has been family owned and operated for more than 100 years. Featuring 100,000 square feet of park land, Trimper's features both modern attractions - including the Tidal Wave roller coaster and the Super Shot Drop Tower - and historic rides. In fact, its 50-foot carousel from the Herschell-Spillman Company is one of the oldest operating carousels in the country.
Northside Park
At 58 acres, Northside Park is Ocean City's largest park. The facility features ball fields, an accessible playground, a jogging path and state-of-the-art outdoor exercise area. Inside, the complex features a gymnasium and Sports Center annex. Kids programs and youth camps are held throughout the year.
Art League of Ocean City
For more artistic endeavors, be sure to check out the Art League of Ocean City, a nonprofit organization founded in 1963 by a group of local artists. Located at the Ocean City Center for the Arts on 94th Street, the nonprofit organization offers kids classes for skills such as pottery and acrylic painting. Special events are also available throughout the year.

Escapomania Escape Rooms
With three locations in downtown, midtown and uptown, Escapomania is a great place for kids and families to gather together, uncover the clues and escape the room before time runs out. You can also choose a theme and difficulty level.
Ripley's Believe It or Not! on the Boardwalk
Ripley's Believe It or Not! is hard to miss. Just walk down the Ocean City Boardwalk and look for the giant shark protruding through a building! But if you thought the exterior looked odd, then you'll have to visit the building's "odditorium," filled with shrunken heads, two-headed animals, unique works of art and the world's rarest egg, to name a few items. Ripley's is a great place for an outing, a field trip, or even a birthday party. Looking for something to do after your visit? Be sure to check out Ripley's Mirror Maze.
Ocean City Life-Saving Station Museum
Located at the Boardwalk Inlet, the Ocean City Life-Saving Station Museum is a great place for families to learn about the cultural and natural history of the resort. The museum, a converted life-saving station, features exhibits and programs designed for visitors of all ages.
Games World
Game World is Ocean City's one-stop destination for arcade games and laser tag. Located on 146th Street, the arena features Final Assault laser tag and 7,500 square feet of action.
Arcades
Walking up and down the Boardwalk - or driving up and down Coastal Highway - there is no shortage of arcades for kids to enjoy. Some establishments are open year round and all of them feature games for any age. Who knows, you may even walk away with a prize or two.
Some local favorites include …
Marty's Playland: Established in the 1940s, Marty's Playland was one of the town's first arcade venues. In addition to its lineup of pinball machines and vintage games, including Crane Digger and Skee Ball, Marty's also has a full collection of games from the 1980's, including Pac-Man.

Sportland Arcade: With a variety of games and numerous prizes, Sportland Arcade is a great entertainment spot for any member of the family.

Funcade: Funcade has been family owned and operated since the 1960's and features 12 original Skee Ball machines, still only 25 cents per game.

Miniature Golf
With several courses to choose from, Ocean City is a great place to enjoy a game of miniature golf. Check out some of these local favorites …
Old Pro Golf: Old Pro Golf, a family-owned business, was founded in 1964. Today, the company operates four locations, each with its own theme. Looking for a rainy day activity? Visit Old Pro Golf's two indoor courses at 68th and 136th streets.

Lost Treasure Golf: Located at 139th Street, Lost Treasure Golf features two, 18-hole courses, with each taking patrons through mountains, caves and waterfalls along their journey.

Nick's Mini Golf: Nick's Mini Golf has five locations throughout Ocean City, each with its own theme. Be sure to check out its Jurassic Golf course on 18th Street, or its Beach Ball Golf course on 45th Street.
Race Tracks
If you are looking for a thrilling activity that's fun for the whole family, Ocean City and its surrounding areas offer a variety of go-kart amusements. Be sure to check out …
Baja Amusements: Located off Route 50, just outside the resort, Baja Amusements features eight go-kart tracks and 10 acres of fun. The park also has three family tracks - with single and double-seats - a rookie track for kids ages 5-7, and a slick track designed for drifting, to name a few.

SpeedWorld Go-Karts: With 10 tracks and more than 140 new go-karts, SpeedWorld is one of the largest go-kart facilities on the east coast. Featured attractions include the Miami Drift track, the Cyclone Cart Coaster and the Formula 1 track.
Frontier Town
Frontier Town is located just outside the resort along Route 611. In addition to its campground, the facility also features a western theme park and water park, all open to the public. Visit the amenity's replica western town, enjoy the revamped Wild West Show, pan for gold, or take a stagecoach ride.
Assateague Island Junior Ranger Program
One of the perks of living in Ocean City is its proximity to Assateague Island National Seashore. Kids can take advantage of the park's Junior Ranger program, which offers special books on being a Junior Ranger Railroad Explorer, Spaceflight Explorer, Angler and Cave Scientist, among other things. The national park also hosts ranger-guided programs to teach visitors of all ages about the barrier island and its environment.
Looking for Delaware Beach House? How about an affordable Bayside Interior Condo? You've come to the best website for searching Delaware Beaches Real Estate. Now it's time to choose the right Realtor to meet your needs. Let me put my knowledge and experience to work for you.
View All Delaware Beachfront Homes For Sale