Birding On Maryland's Eastern Shore
Posted by Mitchell David on Friday, June 9, 2023 at 9:59:05 AM
By Mitchell David / June 9, 2023
Comment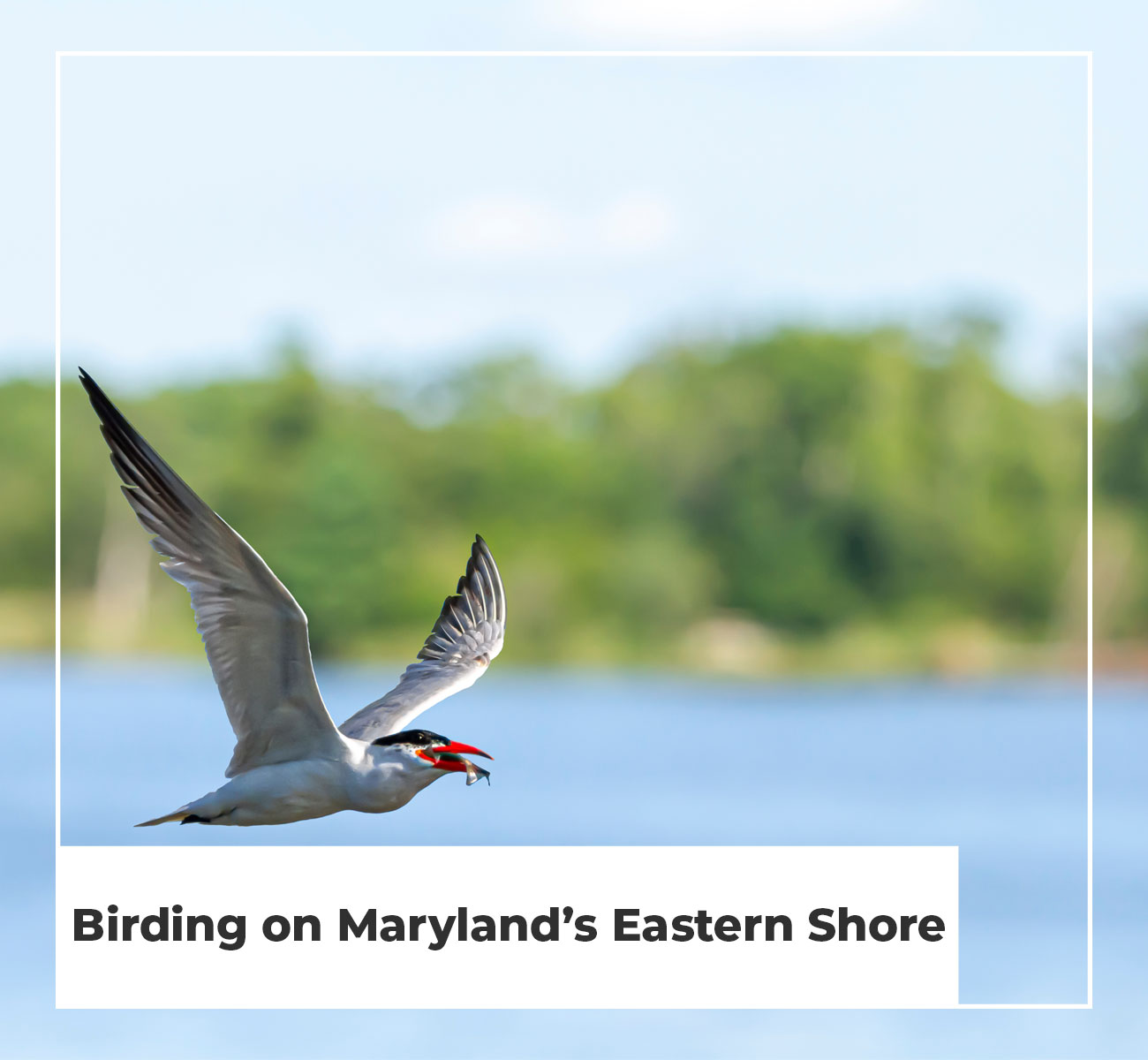 The state of Maryland is listed in the top 10 for having the most birds per square mile, making it a birder's paradise. And on Maryland's Eastern Shore, birding enthusiasts can find some of the state's most active birding sites - from public parks to wildlife management areas. In fact, several festivals and birding events are dedicated to the hobby. Be sure to check out some of these events and resources.
Birding Events
Easton Waterfowl Festival: The Easton Waterfowl Festival, a three-day celebration of Eastern Shore's culture, is held each fall. In addition to kids activities, live demonstrations and art, the festival also features a world waterfowl calling competition. Since its inception, the Easton Waterfowl Festival has raised $5.7 million for wildlife and habitat conservation.
Maryland Ornithological Society Annual Convention: Each year, the Maryland Ornithological Society hosts its annual convention, attracting membership holders from around the state. The event allows birders to socialize, discuss conservation topics and participate in guided field trips.
Spring Delmarva Birding Weekend: For more than 25 years, Delmarva Birding Weekends has hosted its annual Spring Delmarva Birding Weekend. Held each April, the event celebrates the warblers, shorebirds, waterfowl and raptors that visit and live along Maryland's Eastern Shore. Registrants participate in boat trips, paddling treks, and walking expeditions, traversing barrier islands, tidal wetlands, cypress swamps and more. They also participate in a "tally rally," which documents the migrating birds seen throughout the weekend.
Ward World Championship Waterfowl Carving Competition and Art Festival: The World Championship is an international event featuring carvers, collectors and visitors. Held each April in Ocean City, the festival includes decorative works of art, function hunting decoys and roughly 1,200 different waterfowl carvings. Participants compete against one another in over 40 different divisions for a chance to win a portion of $60,000 in prize money, as well as recognition and trophies.
Winter Delmarva Birding Weekend: Similar to the spring event, the Winter Delmarva Birding Weekend offers a glimpse at the waterfowl, seabirds, shorebirds, raptors - and even seals - that visit the mid-Atlantic during the winter months. Just last year, for example, 110 species were documented through the event's "tally rallies."
Birding Organizations and Resources
Maryland Department of Natural Resources Wildlife and Heritage Service: A division of Maryland's Department of Natural Resources, the Wildlife and Heritage Service was formed to conserve the state's diverse native plants and wildlife. Maryland DNR also works with federal and local governments and conservation organizations to preserve and restore bird populations.
Audubon Maryland-DC: Audubon Maryland-DC represents the Maryland and Washington, D.C., region in advocating for the conservation and protection of natural resources that support bird populations and other wildlife.
Maryland Ornithological Society: As a statewide nonprofit, the Maryland Ornithological Society is an organization of community members interested in birds and nature. Founded in 1945, the society promotes education, conservation and appreciation of bird populations and habitats. It also maintains bird sanctuaries, and helps record observations on bird life through field trips and bird counts.
Maryland Bird Conservation Partnership: The mission of the Maryland Bird Conservation Partnership is to maintain and enhance native bird populations and habitats by partnering with public and private entities and promoting community action.